Horseshoe Magnetic Bracelet
Our classic horseshoe magnetic bracelet is more than just magnetic jewellery as it combines neodymium magnetic technology plus the additional benefits of pure copper elements.
Sizing Guide: Before ordering please accurately measure your wrist circumference and then select the appropriate size.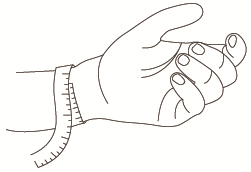 Slim, unisex and easy to wear 24/7, it is made from polished medical grade stainless steel, completely 'Nickel Free' and water resistant.
Integrated into each link is a high power 2000 gauss neodymium magnet plus two pure copper elements for extra performance. The bracelet is secured with a fold over clasp fastening that sits neatly on the wrist.
Offered in a choice of 3 sizes, it makes a beautifull gift for anyone.
Warning: BrodPod Horseshoe magnetic bracelet should not be worn by anyone who has a heart pacemaker or other electrical implant fitted. If you have any doubts about the use of a BrodPod you should consult your doctor.
Is the Horseshoe the same as a BrodTeNS? No, the 'Horseshoe' bracelet is magnetic and copper, it does not feature the microcurrent technology used in the BrodTeNS bracelet.
Can the bracelet length be adjusted? No, please make sure that you have measured your wrist circumference and select the correct size.
How tight should I wear it? There are no hard and fast rules - whatever you find most comfortable because you can wear it 24/7 if you want to.
Can I wear it in water? Yes, the Horseshoe bracelet is water resistant but must not be worn in the sea or swimming pool. Salt water and chlorine will adversely affect it.
How wide is the bracelet? The horseshoe width is 11mm at the widest point.

Can anyone wear the Horseshoe bracelet? People fitted with a Heart Pacemaker or other electrical implant should not wear magnetic products.
Where do you deliver? Other than the UK we ship to most countries worldwide. For all UK orders we use Royal Mail 1st Class or a courier for larger orders.