Magnetic back support belt
Our magnetic Back Support Belt has been developed in association with Harley Street practitioners.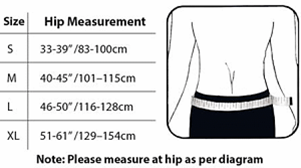 The Magnetic Back Support Belt with Side-Pulls has been specifically designed to provide support for back pain, help improve flexibility during repeated bending and ease muscle strain. The quick-fit unisex belt is available in 4 sizes that can be adjusted to suit the wearer.
They are made in the UK from brand new highly breathable, non-sweat hypoallergenic textiles. Their thermo-regulating properties prevent over-heating and avoid inflammation. Incredibly lightweight and comfortable to wear they do not irritate skin or numb surface nerves therefore can be worn safely on the most delicate skin. (NO Neoprene or Latex).
Providing pain relief and support without the feeling of being 'trussed up'

Easing backache while driving, gardening & other lifestyle & sports activities

Easing back pain during periods of inactivity, such as during illness or injury

Helping ease discomfort caused by conditions such as arthritis, sciatica etc.

Standing for lengthy periods of time

Before and after exercise to prevent muscle spasms and aid recovery
Due to the absence of rigid stays the belt can be worn for long periods of time. The more back pain you have, the more you will want to use it.
Side-pulls have adjustable tension control which can be altered to provide either a lighter or stronger support for maximum benefit and comfort.
The wrap-around belt incorporates our award winning advanced magnetic technology to enhance circulation, reduce pain and aid healing.
Unique thermo-regulating material prevents overheating and can be worn next to the skin if desired as it is non irritant, non toxic and hypo-allergenic.
Comfortable, non-rigid supportive fit

Made from non-sweat thermo-regulating material

Tension control side-pulls

Long-lasting and reliable Velcro front closures

Non-toxic - No Neoprene and Latex Free

Unisex design available in 4 sizes

Washable 
Warning: The BrodPod magnetic back belt should not be worn by anyone who has a heart pacemaker or other electrical implant fitted.

The testimonials below have been submitted and used with the permission of the customer. There is no guarantee that you will achieve similar benefits. Reviews and examples on this website are not to be interpreted as a promise or guarantee of results.
Claire Doyle of Co. Tipperary wrote: "I love my BrodPod Back Support which I have now been wearing for six weeks. It has really helped my lower back pain and I find it very comfortable to wear all day every day. Brilliant product!"