Magnetic Horse Boots
Our magnetic leg wraps (supplied in pairs) are incredibly powerful and very breathable. They can be worn on the front or hind legs and used in the field or stable.
The magnetic wraps are 4 inches/11cm wide and available in 3 different lengths to suit all sizes of ponies and horses from Shetlands to Shires and everything in between.
Measure your horses leg mid cannon. If you are at the maximum length for a size we recommend selecting the next size up.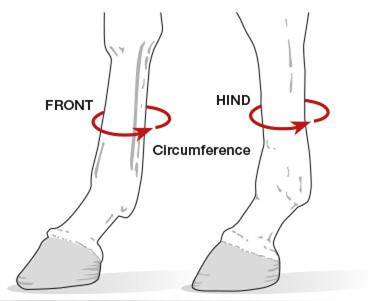 (View 'Spacetec' video)
As a horse owner, we know you'll want the best and most powerful magnetic boots for your horse. Our customers love our magnetic horse boots because they are so easy to use.
The BrodPod magnetic horse boots are made from a 3D technical fabric providing excellent airflow and moisture control which means that you can use them 24/7 if you want to. The microfilament yarn between two fabrics creates a 'microclimate' enabling heat and sweat to disipate. These naturally ventilating properties mean that sweating and overheating is not an issue. It does not absorb water and dries very quickly, making it a perfect fabric for horses.

Each magnetic leg wrap contains custom designed Neodymium magnetic modules that are manufactured exclusively to our specification and will not lose their power.
The magnetic leg wraps each contain a pair of modules that are 26.5mm in diameter together with a reflective shield to focus the magnetic penetration. Within each module there are multi directional magnetic fields of 3220 & 4025 gauss alternating north and south to create a pulse effect for maximum performance (no other magnetic products come close).
Made from 'Body Armour Spacetec' an innovative 3D polyester fabric 

No neoprene

  

Lightweight and breathable

  

Excellent airflow and moisture control

  

Offers comfort and durability

  
Adjustable Velcro® touch tape fastenings  

Can be worn on the front or hind legs

  

For use in the field or stable

  

Machine washable
As featured in:

How long should my horse wear the BrodPod Magnetic Leg Wraps? Due to the completely breathable fabric there are no time restrictions. However when using for the first time monitor your horse for about half an hour to make sure that he/she is happy wearing them.  If using 24/7 we recommend alternating between the front and back legs when possible.
Fitting/using the Leg Wraps? Ensure legs are clean and dry when first fitting. The magnetic modules should be positioned on the back of the legs so that they sit each side of the tendons. Simply wrap around the legs and secure with the Velcro fastenings. Use as a pair and do not over tighten – just enough to prevent them from sliding down over the fetlocks. Use before or after exercise, at rest and in the field or stable. We do not advise using the leg wraps during exercise.
Can I use 2 pairs of magnetic wraps at the same time? Yes, if you feel the need.
When should I not use BrodPod? Do not apply over open wounds. Do not use on an area that has had fly spray, liniment or any other chemicals applied.
Do the magnets lose their power? No, our magnets are manufactured from superior grade Neodymium to our unique specification. Neodymium magnets are the strongest and most permanent magnets known to man - providing they are not physically damaged they do not lose their power.
Washing instructions: Brush off dried mud and wash regularly. The magnetic horse boots can be hand or machine washed (40°C delicate cycle). Do not use harsh detergents or fabric conditioners. Do not tumble dry.

| | |
| --- | --- |
| Melanie Rhodes wrote: "Just wanted to say how impressed I am with your products for my 9yo mare. She now wears your magnetic wraps and I also wear the BrodTeNS bracelet. Highly recommend the products and the service". | |
| | |
| --- | --- |
| Andrea Zimmerman (Australia) wrote: "Thank you, these BrodPod magnetic boots are really breathable! I originally ordered another brand of Neoprene boots as they were distributed in Australia and they claimed to be breathable. I thought they would be ok to use here overnight in summer but even then they were way too hot! I received my BrodPod leg wraps yesterday and this morning Rocky's legs didn't feel even slightly warmer, I could probably even use these safely in the day, but at this stage I'm just happy I can use them." | |
| | |
| --- | --- |
| Vanessa Carlin wrote: Really, really pleased with the leg wraps will order another pair when I have saved up. Thank you again for an amazing product. Just to think my vet and I was thinking that this would be Vienna's last summer. Thanks to BrodPod magnetic leg wraps she will still be with me, can't thank you enough x" | |
Mrs A Sheldrake wrote: I can't believe how wonderful your magnetic boots have been to my 31 year old hunter/driving horse Queenie. 

The photo was taken the morning after hunting. She is very fit and doing her 26th hunting season. She also carriage drives every week and she has been teaching disabled and disabled whips to drive for the RDA. I recommend the magnetic boots, and thank you.



Abbie Morter wrote: "Wally had his first night with his new magnetic boots on last night. I swear I turned out a different horse this morning!!! Usually he plods out to the field, and wanders off. Today he was keen as mustard, and cantered around bucking and squealing for 5 minutes!!!

It seems my boy got his beans back faster than I thought though!! Thank you so much!! He got the all clear from the farrier to start work again too. Onwards and upwards!! Big smiles this end!!



| | |
| --- | --- |
| Edie Pender-Cudlip wrote: "Just wanted to say thank you for your product. I purchased the BrodPod magnetic leg wraps for my horse at Blair. While he was on box rest he wore the leg bands the entire time, and still wears the leg bands every night.  I definitely notice when I haven't put them on him over night. Thank you again." | |



Sheri Morgan wrote: "Just wanted to say thank you, I purchased these BrodPod leg wraps (double helping as I know they are brilliant)!

The magnetic wraps are amazing, she has gone from hit and miss to competing in the national carriage driving championship! She wears them when in the stable, and when travelling a distance. If the weather is awful and they are in for 24hrs she will lend them to our other horse.



| | |
| --- | --- |
| Our customer Anne Buchanan sent us this lovely photo of her cat putting the BrodPod magnetic leg wraps to good use. Of all the comfortable places a cat usually chooses for a snooze it chose these...makes you wonder what the cat knows! | |
Our magnetic leg wraps are not only very effective on horses. This is what a customer has used them on...brilliant!

"The power of magnets.....Saturday-Tuesday.....Different calf...up drinking without any help from us today....but it means that I will have to buy a new pair of leg wraps in the future " Lizze.




Jackie Calvert wrote: I have 2 pairs of Brodpod magnetic wraps for my 21 year old who is retired. Thanks to these wraps he can be seen in field running with the rest. 
Lynsay Harris wrote: "Bought a pair of Brodpod leg wraps for my daughters pony about two months ago. Absolutely love them and could not live without them now. Need to order another pair as keep having to swap from front to hind lol honestly they are great. I am the type of person who would not part with money easily but they are brill and do the job thanks Brodpod"
Another pair of Brod pods great Xmas prezzie for my daughters pony. Thanks Helen for all you help now I have two sets love them, as I said today so many people try lots of magnetic boots these are the best without a doubt and funny how many people comment on them. Got to jump her the other night put them on after and she's fine would not hesitate to recommend them. By the way anyone reading this I can assure you Helen and Ray deserve recognition for a great reasonable priced product thx again x 
Amanda Richards wrote: These Brod boots are fantastic, they have been on my foal and on a 16-2hh. Ours are a medium size but fit all four of mine and my friends horses. Best buy ever. They don't look that clean anymore though! Highly recommended.
Sylvia Byerley wrote: Just ordered a pair of boots for Grace. We've been using BrodPod's for years and years on humans and dogs, even our vet uses them (on herself and her dogs!) but our newest horse has arrived this week and and the chiropractor suggested magnetic boots. Your boots were the first we thought of!
Professor Di Lawrence-Watt wrote: I am pleased to say that I would certainly recommend BrodPod magnets to other horse owners.
Rosemary Ray wrote: "Hi, I can highly recommend this product ! In two ways - my horses and a friend. For my horses I used the leg wraps.
L Wallace wrote: The leg wraps I purchased for my 23 year old Shetland pony have been brilliant. I am so pleased with them.