Magnetic Horse Boots
Our magnetic leg wraps (supplied in pairs) are incredibly effective, very powerful and breathable. They can be worn on the front or hind legs and used in the field or stable.
The magnetic wraps are 4 inches/11cm wide and available in 3 different lengths to suit all sizes of ponies and horses from Shetlands to Shires and everything in between.
Measure your horses leg mid cannon. If you are at the maximum length for a size we recommend selecting the next size up.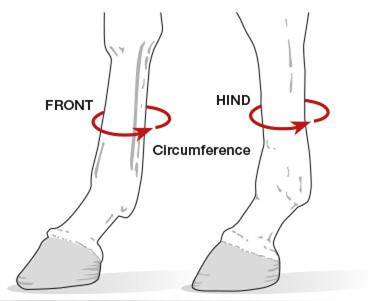 (View 'Spacetec' video)
As a horse owner, we know you'll want the best and most effective magnetic boots for your horse.
Our customers love our magnetic horse boots and report seeing great improvements in a wide range of ailments when using them - just read our Reviews.
Horses with arthritis including Navicular, Ringbone, Sidebone and Pedal Ostitis are just a few of the many arthritic conditions that may be helped. Using the magnetic horse boots for Splints, Laminitis, competition injuries, tendon injuries and joint pain may also help speed the healing process by improving the circulatory system.
The BrodPod magnetic horse boots are made from a 3D technical fabric providing excellent airflow and moisture control which means that you can use them 24/7 if you need to. Sweating and overheating is not an issue.
Each magnetic leg wrap contains custom designed Neodymium magnetic modules that are manufactured exclusively to our specification and will not lose their power.
The magnetic leg wraps each contain a pair of modules that are 26.5mm in diameter together with a reflective plate to drive the field deep into the body.
Within each module there are multi directional magnetic fields of 3220 & 4025 gauss alternating north and south which create a pulsing effect for maximum performance (no other magnetic products come close).
Due to the exceptional power it is not necessary to target the problem area because our leg wraps treat the whole horse via the circulatory system.
Made from 'Body Armour Spacetec' an innovative 3D polyester fabric 

No neoprene

  

Lightweight and breathable

  

Excellent airflow and moisture control

  

Offers comfort and durability

  
Adjustable Velcro® touch tape fastenings  

Can be worn on the front or hind legs

  

For use in the field or stable

  

Machine washable
As featured in:

BrodPod magnetic horse boots are not a substitute for veterinary advice. The information on this website is not intended to treat or diagnose any particular medical condition. If your horse or pony is unwell or injured, we recommend that you consult your vet.

What conditions can BrodPod help with? Our customers have reported seeing an improvement in their horses in many conditions such as: Arthritis, Laminitis, Sore shins, Navicular, Ringbone, Sesamoiditis, Wound healing, Splints, Filled legs, Windgalls, Tendon injuries, Spavin, Hoof growth and Sprains.
How long do the BrodPod Magnetic Leg Wraps take to work? Our powerful alternating magnetic fields create a constant pulsing on the on blood cells helping to increase their electrical conductivity. Blood vessels become more relaxed and dilated allowing the blood to flow more freely therefore making the delivery of oxygen and nutrients and the removal of toxins more efficient. As soon as you fit them to your horse, pony or donkey they begin to have an effect.
Pain, swelling, stiffness, muscle cramps, inflammation, arthritis and recovery from exercise are just a few of the many conditions that have been successfully helped with magnetic therapy.
BrodPod magnetic boots for horses can be used as an aid to help prevent problems as well as to treat them. Some owners see rapid results, while others observe subtle changes over a period of time.
Do I need to target the specific area that I want to treat?  No, because our magnetic therapy technology is specifically designed to influence blood flow and move electrons. This helps stimulate all of the circulatory system and not just the area where the magnetic horse boots are applied. 
How long should my horse wear the BrodPod Leg Wraps? Due to the completely breathable fabric there are no time restrictions. However when using for the first time monitor your horse for about half an hour to make sure that he/she is happy wearing them.  If using 24/7 we recommend alternating between the front and back legs when possible.
Fitting/using the Leg Wraps? Ensure legs are clean and dry when first fitting. The magnetic modules should be positioned on the back of the legs so that they sit each side of the tendons. Simply wrap around the legs and secure with the Velcro fastenings. Use as a pair and do not over tighten – just enough to prevent them from sliding down over the fetlocks. Use before or after exercise, at rest and in the field or stable. We do not recommend using the leg wraps during exercise.
Can I use 2 pairs of magnetic wraps at the same time? Yes, if you feel the need.
Are there any side effects? A few horses appear to be aware of the strong magnetic fields when first wearing our therapy products. The temporary sensation is an initial surge as the magnetic boots starts to work. Do not leave your horse alone until you are sure that he/she is comfortable.
When should I not use BrodPod? Caution should be used when first applying to a recent injury. Do not apply over open wounds. Do not use on an area that has had fly spray, liniment or any other chemicals applied.
Can I use the wraps on myself? Yes, unless you have a heart pacemaker or other electrical implant that may be affected by a high power magnetic field. We have a range of products for people as well as dogs and horses.
Do the magnets lose their power? No, our magnets are manufactured from superior grade Neodymium to our unique specification - they do not lose their power.
Washing instructions: Brush off dried mud and wash regularly. The magnetic horse boots can be hand or machine washed (40°C delicate cycle). Do not use harsh detergents or fabric conditioners. Do not tumble dry.

The testimonials below have been submitted and used with the permission of the customer. There is no guarantee that you will achieve similar benefits. Reviews and examples on this website are not to be interpreted as a promise or guarantee of results.
Melanie Rhodes wrote: "Just wanted to say how impressed I am with your products my 9yo mare was diagnosed with Bone Spavin she now wears your magnetic wraps and I have seen a dramatic difference in how her movement has improved including now no longer toe dragging. I also wear the BrodTeNS bracelet after suffering with Arthritis in my hand I am now pain free without flare ups. Highly recommend the products and the service".
Andrea Zimmerman (Australia) wrote: "Thank you, these BrodPod magnetic boots are really breathable! I originally ordered another brand of Neoprene boots as they were distributed in Australia and they claimed to be breathable. I thought they would be ok to use here overnight in summer but even then they were way too hot! I received my BrodPod leg wraps yesterday and this morning Rocky's legs didn't feel even slightly warmer, I could probably even use these safely in the day, hopefully they will help his splints settle but at this stage I'm just happy I can use them."
Jackie Calvert wrote: I have 2 pairs of Brodpod magnetic wraps. My 21 year old who I retired struggles with arthritis. Thanks to these wraps it's given him a new lease of life. he can be seen in field running with the rest. Which he didn't do before wearing them.
Vanessa Carlin wrote: 
"What am improvement in my pony Vienna. Really, really pleased with the leg wraps will order another pair when I have saved up. Thank you again for an amazing product. 
Just to think my vet and I was thinking that this would be Vienna's last summer. Thanks to BrodPod magnetic leg wraps she will still be with me, can't thank you enough x"
Mrs A Sheldrake wrote: I can't believe what a wonderful result your magnetic boots have been to my 31 year old hunter/driving horse Queenie. 
The next day, after having the boots on all night, I took her out of the stable yard up a very steep concrete slope and she was completely sound. Usually she is hobbling on the back and front with arthritis, which wears off after a while. 
The photo was taken the morning after hunting. She is very fit and doing her 26th hunting season. She also carriage drives every week and she has been teaching disabled and disabled whips to drive for the RDA. I recommend the magnetic boots, and thank you.
Abbie Morter wrote: "Wally had his first night with his new boots on last night. I swear I turned out a different horse this morning!!! Usually he plods out to the field, and wanders off. Today he was keen as mustard, and cantered around bucking and squealing for 5 minutes!!!

He has a rotated pedal bone, which is why I got the boots. It seems my boy got his beans back faster than I thought though!! Thank you so much!! He got the all clear from the farrier to start work again too. Onwards and upwards!! Big smiles this end!!"
Edie Pender-Cudlip wrote: "Just wanted to say thank you for your product. I purchased the BrodPod leg wraps for my horse at Blair following an accident in which he tore open his elbow. While he was on box rest he wore the leg bands the entire time, and now he has made a full recovery and wears the leg bands every night. I believe the bands helped with the speed of his recovery, and I definitely notice when I haven't put them on him over night. Thank you again."
Lynsay Harris wrote: "Bought a pair of Brodpod leg wraps for my daughters pony about two months ago. Absolutely love them. She has arthritis and after riding her legs can be puffy. I put these on and within hours she is back to normal could not live without them now. Need to order another pair as keep having to swap from front to hind lol honestly they are great. I am the type of person who would not part with money easily but they are brill and do the job thanks Brodpod"
BrodPod: "Thanks for the wonderful feedback Lynsay, so pleased the magnetic leg wraps are helping."
Lynsay Harris wrote: "You're most welcome they are Great I believe in positive feedback, people spend so much time only commenting in general on purchases when its negative. Thought I would break the norm on shopping and feedback and leave a positive one you deserve it Ray and Helen. So lovely nice to see you again at Blair 2015, will be in touch very soon to purchase another pair. The other good point is once you have bought them that it charged for life no need to replace them, great must have to my kit."
Sheri Morgan wrote: "Just wanted to say thank you for making such a difference to my horse. She was diagnosed with arthritis in her cannon joint and after treatment from the vet I purchased these BrodPod leg wraps (double helping as I know they aid circulation Just wanted to say thank you for making such an improvement and she had suffered from laminitis in the past). 
The results are amazing she has gone from hit and miss soundness to competing in the national carriage driving championship! She wears them when in the stable, and when travelling a distance. If the weather is awful and they are in for 24hrs she will lend them to our other horse who gets filled legs - filled legs are no more!
Amanda Richards wrote: These Brod boots are fantastic. They have been on my foal for growth plate separation. On a 16-2 for leg swellings, for after jumping. Ours are a medium but fit all four of mine and my friends horses. Best buy ever. They don't look that clean anymore though! Highly recommended.
Sylvia Byerley wrote: Just ordered a pair of boots for Grace. We've been using BrodPod's for years and years on humans and dogs, even our vet uses them (on herself and her dogs!) but our newest horse has arrived this week and she has joint issues and the chiropractor suggested magnetic therapy. Your boots were the first we thought of!
Kareen Kidd wrote: "Thought you would like an update on my pony, Dhughaill, since wearing his brodpod magnetic boots. He had his bilateral stifle operation on 6 November, where it was discovered there was slight meniscus damage plus full thickness cartilage damage (which was debrided to clean it all up and take out any sharp bits) to one leg resulting in osteoarthritis in that leg plus milder OA in the other leg.
He wore BrodPod wraps from the day he got home from the vet. He was given walking exercise as instructed by vet and then had physio from 6 weeks after op on a weekly basis with me following up some of the exercises daily.
My vet came out to check him 8 weeks after the operation and couldn't believe how he had come on. He said he was already at the stage that he would have expected after 5 or 6 months and we all felt that the BrodPods played a huge part in this recovery. He was expected to be out of work completely for at least 6 months but as well as now being allowed out during the day in a small paddock, he is being ridden at walk for half an hour daily and is doing great.
Fingers crossed he keeps improving this way. So far he has needed no further medication after his first 6 days pain relief from the op, even though the vet had thought he may have needed steroid injections into his stifle to help with recovery and am hoping it stays that way."
Professor Di Lawrence-Watt wrote: "I am sorry I have not been in touch before now, but I wanted to give the BrodTens a good test and also wait to see how Biggles reacted to his magnets.
I am pleased to say that the magnetic horse boots have been a great success for Biggles and he is moving a lot more freely on his hind legs than previously. They have helped his arthritis greatly and I would certainly recommend them to other horse owners.
As to the BrodTens bracelet – this was a bit more difficult for me to start with because I am very lucky in that I have no joint problems or aches and pains – maybe riding, golf and swimming several times a week have kept me supple.
However, last Saturday I sustained a very nasty burn to the ventral surface of my forearm from steam escaping from a chamber used to steam bales of hay. It was very painful and although I applied cold water and a cold wrap to my forearm, it was very red due to the inflammation of the skin. Due to the reported benefit of microcurrent technology to damaged tissue, I wore the BrodTens bracelet over my injured forearm. Within 48 hours the pain of the burn was very much reduced as was the redness. I feel that the wearing of the BrodTens bracelet aided the healing of the burned tissue and significantly accelerated the healing of my skin.
Please feel free to use any of my experiences in your advertising of the benefits of the horse magnetic boots or the BrodTens bracelet (for the latter I have tried to keep the wording as for a lay person) so although retired I still keep an interest in science."
Rosemary Ray wrote: "Hi, I can highly recommend this product ! In two ways - my horses and a friend. For my horses I used the leg wraps after a 1 off attack for laminitis on my beloved mare, it helped get things going a bit quicker and I still use them on her if she is looking a bit stiff.
I also have a rescue pony who was badly treated and has left her front legs deformed, so along with care, natural products and the BrodPod leg wraps she is walking with much more confidence and also is a much happier lady.
The other recommendation is by a French man I recommended the BrodTeNS bracelet to for the pain in his knees who was very sceptical and not happy to buy unless he tried it! He did, and now he swears by it and tells all his French neighbours and friends as if he invented it and his idea!"
Maize wants to thank Brodpod for giving her a new lease of life. Three years ago she was struggling to get around due to arthritis. She was 20 years old then. It had got so bad that we were thinking we were cruel keeping her going. She was dosed up with painkillers and still lame.
We tried loads of alternative therapies but nothing worked until we found Brodpod's. She has the k9 ones fastened to velcro watch straps, two on each leg, as you can see in the picture. After a very short time she became more mobile and she canters around the field bucking and kicking. She doesn't have any painkillers at all now and couldn't be happier. Thank you Brodpod.
Ann Sewell wrote: "Just to let you know the BrodPod leg wraps work a treat on Glen, his leg doesn't fill out overnight if he has them on. I was also wondering if they have a slight calming effect, as I have taken him away twice in the trailer since he started wearing them. 
Normally I have to tie him up the minute he suspects he's going somewhere as he just can't contain himself and broncs around the stable kicking the walls, but not since he got the wraps, in fact I thought he was coming down with something he was so quiet....... long may it last!

Also my BrodTens wristband is working wonders as today for the first time since I can't remember when I didn't have numb hands when I woke up. I noticed the result right away in the hand that I wear the bracelet on and its taken 6 days of gradual improvement for my other hand to be the same."
Mrs Finch wrote: "I bought a pair of Brodpod leg wraps for my horse because of an attack of laminitis. Within 24 hours he was moving more freely and within a week could trot. They have been brilliant! I now use the wraps all the time as preventive treatment and to help maintain his health."
L Wallace wrote: The leg wraps I purchased for my 23 year old Shetland pony have made a tremendous difference to her way of going. She is moving so much better and now spends most of her time out in the paddock instead of in her field shelter as she did before. I am so pleased with the difference they have made to her quality of life.