Magnetic horse rug
The BrodPod magnetic therapy horse rug is uniquely designed to mimic the effects of the more expensive electro-magnetic rugs available, but at a fraction of the cost. 
For orders outside of UK please contact us for a shipping price prior to ordering

Hurry Only 3 Left: 
1 x 6'0" 
2 x 6'3" 
With an ever increasing number of magnetic horse rugs for sale on the market today, we understand that you will want to choose the best and most effective magnetic rug for your horse. Each horse rug has custom designed Neodymium magnetic modules situated on the shoulders, back and quarters to provide maximum saturation of the major muscle groups. The alternating fields are permanently charged with a massive 3220 and 4025 gauss presenting north and south poles towards the body - no other magnetic rug comes close!
Our contoured magnetic therapy rug is made from a high quality open weave polyester mesh with a simulated sheepskin wither pad, leather front fastening, single surcingle and fillet string. It's multi-purpose use as a travel/sweat rug or underneath another rug gives you plenty of options for long or short term treatment.

Our magnetic therapy rug for horses can be used as an aid to:  
Relax muscles and joints before and after exercise.

 

Speed up recovery rate after exercise or injury

 

Improve circulation

 

Speed up the natural healing process

 

Calm a nervous horse when travelling

 

Make life more comfortable for an old or arthritic horse

 
As featured in:


BrodPod magnetic horse rug is not a substitute for veterinary advice. The information on this website is not intended to treat or diagnose any particular medical condition. If your horse or pony is unwell or injured, we recommend that you consult your vet.
How long does the BrodPod Magnetic Rug take to work? As soon as you put the rug on your horse it begins to have an effect.
Our powerful alternating magnetic fields create a constant pulsing on the on blood cells helping to increase their electrical conductivity. Blood vessels become more relaxed and dilated allowing the blood to flow more freely therefore making the delivery of oxygen and nutrients and the removal of toxins more efficient.
Pain, swelling, stiffness, muscle cramps, inflammation, arthritis and recovery from exercise are just a few of the many conditions that have been successfully helped with magnetic therapy.
BrodPod products can be used as an aid to help prevent problems as well as to treat them. Some owners see rapid results, while others observe subtle changes over a period of time.
Do I need to target the specific area that I want to treat? No because our technology is specifically designed to influence blood flow and move electrons. This helps stimulate all of the circulatory system and not just the area where it is applied. 
How long should my horse wear the BrodPod Rug? There are no time restrictions, however we recommend using for at least ½ hour before or after exercise for warm up/cool down and as long as you need if you are treating a problem. Rugs can be worn during travelling and also under a turnout or stable rug.
Are there any side effects? A few horses appear to be aware of the strong magnetic fields when first wearing the rug. The temporary sensation is an initial surge as the BrodPod starts to work. Do not leave your horse alone until you are sure that he/she is comfortable.
When should I not use BrodPod? Caution should be used when first applying to a recent injury. Do not apply over open wounds. Do not use on an area that has had fly spray, liniment or any other chemicals applied.
Do the magnets lose their power? No, our magnets are manufactured from superior grade Neodymium to our unique specification - they do not lose their power.
Washing instructions: Rugs can be hand or machine washed (40°C delicate cycle). Do not use harsh detergents or fabric conditioners. Do not tumble dry.

The testimonials below have been submitted and used with the permission of the customer. There is no guarantee that you will achieve similar benefits. Reviews and examples on this website are not to be interpreted as a promise or guarantee of results.
Chantelle Jennison NLP Practitioner (MABH, MABNL, MTLTA) wrote: You may remember back in January myself and my partner purchased two magnetic horse rugs from you, followed by a BrodTeNS bracelet for myself.
I would like to commend you on such a fantastic product and I found improvements in areas I wasn't expecting. Firstly Derrys stiffness went almost overnight, and the improvements in our ridden work have been amazing, but the thing I wasn't expecting was the promoted healing of his malenders and mudfever. This has been quite hard to deal with this winter, however with the introduction of the rug he is so much happier.
I suffer with carpal tunnel syndrome and arthritis in both wrists, so with the improvements I found in Derry, decided to get a bracelet for myself and WOW I am pain free and the first time for ages too.
I cannot recommend you highly enough, for both your products but all the advice you have so freely given.
You asked for my website address too, please take a look www.doubleclearnlp.co.uk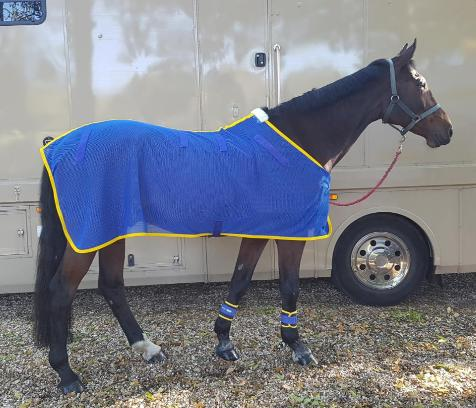 Anna Bruce BHSAI (Reg), BSc (Hons) wrote: 
This is Apple Pye wearing his new BrodPod magnetic rug. I bought it to help him when travelling to and from competition & after work. 
I've used BrodPod magnetic leg wraps for over a year. They are fabulous as they stay secure in the field & when stabled really help prevent legs from swelling. 
Jemma Docherty at Team C wrote: "Morning, just thought I would let you know about our team wearing their BrodPod magnetic rugs. We have been using them for a number of years now and highly recommend them to all. Always our first answer to people when asked what magnetic products to use.
Keep up the good work, thanks."
Julia Sayburn wrote: Finally got round to responding! Thanks for the newspaper cutting. Great for Tilly to have got the win. We found out that week that she got a place at Badminton Grassroots next year due to being placed at Bishop Burton. So quite a week all in all.
Daz, Boggy Jack has done some great dressage since wearing the Brodrug. We travel him to events there and back and if we have an early start and plait, he wears it overnight with a fleece on top. It has certainly loosened him up along his back and in the loins area. Sometimes a bit too giddy! Tilly is very pleased to have bought it and Paul is pleased with his Brodtens wrist band and wears it every day!
Sharon Long wrote: My horse Fraggle wears one of your BrodPod magnetic rugs. I put this on her to travel to shows between phases (eventing) post competition after I have washed her off.
Since using the rug and the wraps she certainly does not take as long to warm up for the dressage, she is most definitely a different horse since using this. She seems to be moving more freely which helps in all phases of eventing.
Also my older horse who I had to retire due to onset of arthritis is enjoying being back in work since he got a rug and wraps he them on overnight. He has even done a few unaffiliated events and show jumping since using these and I am considering taking him affiliated again next year.