Protective Face Masks
Our premium quality re-usable wash and wear protective face coverings are intended for personal use and designed for comfort and durability. The mask is shaped to help minimise the inside surface from coming into contact with the mouth and nostrils.
Colour - Natural un-dyed
Supplied in packs of 2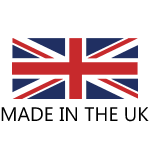 SOLD OUT
Due unprecedented demand we are currently out of stock.
Estimated dispatch for all orders placed before 8:30pm Sunday 24th May will begin week commencing 1st June.
If you place/d an order on/after 25th May it will be dispatched as soon as possible. We estimate this to be week commencing June 8th.

Sorry for the delay and thank you for your patience and understanding.
Backed by Harley Street consultant Mr Ian Bayley. Scientific testing has confirmed that its barrier protection properties are significantly better than the FFP2 face masks worn by NHS staff.
The unique cushioned shape spacer fabric with double integrated filtration helps prevent the inner surface from coming into contact with the nostrils and mouth. This provides a greater barrier to reduce the risk of viral transmission into the respiratory tract.
Comfortable and easy to wear - suitable for direct contact with the skin and breathing through over a prolonged period.
Soft elastic binding provides a gentle seal around the lower face area.
Tie-back tapes attached to the elastic around ears avoids pinching while at the same time ensures a custom fit.
Machine washable and fast drying.
One size - fits most adults and older children
Please note:  For health and safety reasons purchases are non-refundable.
STAY SAFE - we strongly advise following our recommendations when wearing and caring for your face masks.
PLEASE WASH MASK BEFORE WEARING

PUTTING ON:

1. Before fitting, wash hands in soapy water (or use hand sanitiser).
2. Raise the cone shape part - METAL NOSE STRIP UPPERMOST - and place over nose and chin.
3. Loop ear elastic behind ears and tie the tape securely behind your head.
4. Position it to sit evenly and comfortably on the lower part of your face.
5. Pinch down on the metal strip over the bridge of your nose to close any gaps.

TAKING OFF:

1. Avoid touching the front of the mask as it may have been contaminated during use.
2. Reach back and untie the tape, still holding onto the tape remove from your face without touching the front part.
3. Place straight into the washing machine or sink. If you are out and about, place straight into a polybag.

WASHING INSTRUCTIONS:

1. Machine Wash with detergent at 30 to 40 degrees (use a net wash bag if you have one). Can be washed along with other items. 
2. OR Hand Wash in soapy water or detergent. Rinse well and wrap in a clean towel to remove excess moisture.
3. Tumble dry, blow-dry with a hairdryer, place on a radiator or dry naturally. 
Masks must be completely dry before wearing. Change if damp with breath and remember to use in combination with social distancing and washing hands in soapy water.
Can anyone wear them? Yes, unless you have a reason/medical condition that would prevent you from doing so. They help to provide a physical barrier and are designed for personal use.
How often should they be washed? After each use and/or if damp because you may have been in a contaminated area. Wash by hand or machine using detergent and dry in a tumble dryer, on a radiator or naturally.                                 
What's the face part made of? 100% polyester and suitable for direct contact with the skin and breathing through over a prolonged period.
Why did you choose 100% polyester?  Because it's lightweight, skin friendly, washes well, dries quickly, wrinkle resistant, abrasion resistant and strong.
Is the product LATEX FREE? Yes.
Are there any ongoing costs such as replacement filters?  No, all you need to do is wash and dry your mask after each use and it's ready to use again. You can wash it over and over again - it really is very simple to look after.
Harley Street Consultant Mr Ian Bayley wrote: "I believe that this new respiratory face covering is the best of all the devices currently out there for public use. This virus is likely to survive at varying levels within populations for some time and we need to find ways to limit transmission.
From what we have seen, the level of infection that gets into the nostrils dictates the severity of the illness. If we can limit that with these new masks and help to stop a full viral bombardment, we will be less at risk.
Normal paper masks as used in hospitals get wet and become useless. They are single use and have to be replaced every 20 minutes, as I am seeing in my hospital work."